COLORBOND® Colours :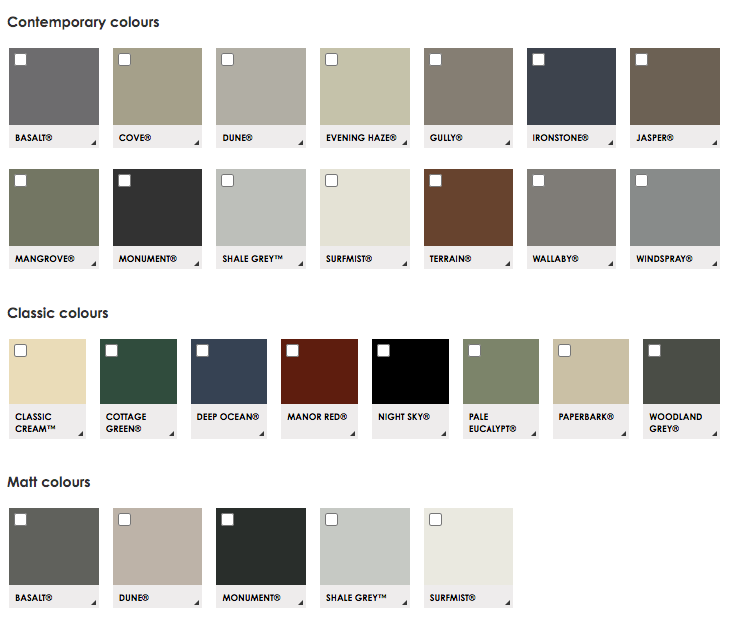 Please see link to COLORBOND Website HERE
To help you find the perfect colour for your home, COLORBOND® steel's inspiring colours are presented in five groups - Contemporary, Classic, Fencing, Ultra and the new Matt finish. The colours of Australia have inspired all the colours. So, whether you prefer subtle or bold colours, light or dark, cool or warm, just select the one you like from the palette to find out more about the inspiration behind it.
When you purchase COLORBOND® steel, you buy products made and backed by BlueScope, one of Australia's largest manufacturers. BlueScope offers a variety of warranties subject to application and eligibility criteria. You can apply for a warranty using the online Warranty Management System at www.bluescopesteel.com.au/warranties.
Colorbond Colours- select the best option for roof installation.
The longevity and durability of your roofing system are dependent on the quality of roofing material that you select so that you will enjoy its benefits for a longer period of time. Additionally, you will need to select a roof that comes with easy and secure online ordering, and you will also enjoy using a roof that will last for a longer period of time. The lowest prices on corrugated iron will help you save a considerable amount of money on purchasing roofing material. There are a wide variety of Colorbond colours, but you will need to select the one that will complement the overall look of your property. Trusted Australian-Bluescope steel roofing will help your roof remain strong and durable for a long time and not replace the roofing system. You will need to look at the Colorbond colours at https://www.metalroofingonline.com.auso that you can purchase the best option with easy and secure online ordering along with fast delivery.
Reasons to consider Colorbond monument for your roofing project.
Colour bond monument offers you the opportunity of getting a highly durable, strong and sturdy roof that will last for many decades without the need for replacement shortly. But for the roof installation project, you may need to hire experienced and skilled roofers who will complete the task most professionally. You will need to carefully select the roofing material from https://www.metalroofingonline.com.au, where you will get the lowest prices on your choice of roof. You will get complete peace of mind with easy and secure ordering done online so that the roofing material will arrive with fast delivery. Trusted-Australian- BlueScope, steel roofing is the best way of adding many years to your existing roof so that it will remain in good condition for a long period of time. Thus, you should consider the Color bond monument if you want to get relief from any stress relating to your property's roofing system.