COLORBOND® Colours :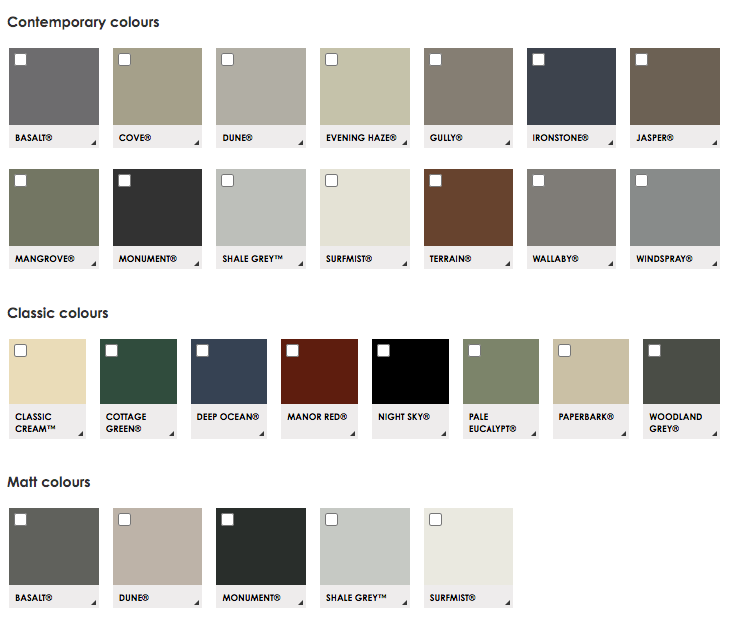 COLORBOND® steel Surfmist® cladding COLORBOND® steel Shale Grey™ and Monument® in the profile LYSAGHT SPANDEK®.
Photo by: Shannon McGrath // Architect: Tecture // Builder: Built By Wilson Photo by Katherine Lu // Architect: Ben Giles Architect
COLORBOND® steel Night Sky® in LYSAGHT CUSTOM ORB® profile. COLORBOND® steel Monument® in LYSAGHT CUSTOM ORB® profile.
Photo by Dan Hocking // Architect: Adam Kane Architect Photographer and Architect: Adam Kane Architect
To help you find the perfect colour for your home, COLORBOND® steel's inspiring colours are presented in five groups - Contemporary, Classic, Fencing, Ultra and the new Matt finish. The colours of Australia have inspired all the colours. So, whether you prefer subtle or bold colours, light or dark, cool or warm, select the one you like from the palette to find out more about its inspiration.
When you purchase COLORBOND® steel, you buy products made and backed by BlueScope, one of Australia's largest manufacturers. BlueScope offers a variety of warranties subject to application and eligibility criteria. You can apply for a warranty using the online Warranty Management System at www.bluescopesteel.com.au/warranties.
Please see a link to COLORBOND Website HERE.
Better Living With Colorbond Roofing
Colorbond roofing is a type of roofing made from corrugated galvanized steel sheets used outside residential and commercial buildings.
It is unique in that it's self-ventilating and water-resistant, reducing the heat gain and lowering the energy demands of buildings by up to 30%. It also resists cracks, warping, peeling, soiling, and discolouration. With the benefits of colorbond roofing, there's no wonder why it is among the most popular choices for new homes and is an option to install on existing homes. Its popularity also grew from its ability to be seen from a distance, as each sheet's design has variations in colour and texture. Colorbond roofing can mimic more traditional materials like slate, clay tiles, wood shake, or even terra cotta while maintaining the durability of steel.
In recent years, colorbond roofing colours have become popular among homeowners and builders.
You may have caught a glimpse of a neighbour's home or a home on the water tower in your area with a great-looking colorbond roof. In this article, I'll explain the types of colorbond roofing, how it is installed, and the benefits it can provide for homes.
Colorbond roofing is a cost-effective choice for homeowners because you can get quality products from respected manufacturers at competitive prices. Colorbond Steel products are aesthetically pleasing and long-lasting.
They are also environmentally friendly because they don't sacrifice quality for affordability. In addition, colorbond roofing is safe, long-lasting, and energy efficient.
Colorbond steel colours are available in various choices, so you can find one that matches your project's style.
While some colorbond products are rustproof and corrosion-resistant, others aren't. As with any building material, you should choose a colorbond roof that is durable and resistant to rust.
Colorbond roofing is produced in Australia to make steel roofing more affordable and offer a wide colour range.
Colorbond is known for its low maintenance costs, premium quality, and long-lasting durability. They are made from durable corrugated galvanized steel sheets that give them their unique look and durability. Colorbond is an excellent choice for exterior applications because it comes in various colours and textures, providing the authenticity of other traditional or natural-looking materials like stone, wood, or clay tiles but with the dependable durability of steel.
There are many benefits to choosing colorbond roofing as an exterior surface for your home. It's durable, lasting, and long-lasting. It also has a low maintenance cost because it doesn't rust like metal, so you don't have to worry about rust being an issue. As an exterior finish, it resists the weather and is easily maintainable with a low cost of care. Colorbond roofing also reduces heat transfer so that the whole house temperature won't be affected by the outside temperature, and your heating bills will be reduced.
Additionally, colorbond roofing makes an excellent choice for exterior surfaces because it is entirely maintenance-free and won't require repainting or re-coating. Colorbond products are more cost-effective even though they are built to last. It's also environmentally friendly and recyclable.
Though you might be able to install colorbond roofing on your own, there are many benefits of using a professional contractor to get the job done. Professionals have the equipment and knowledge needed to correctly install the product so that there will be no leaks or other problems in the future.
Benefits of Installing Colorbond Fences
Installing a colorbond fence is not only less expensive than standard steel fences. It's significantly more durable. In addition to its durability, the colour can't be corroded by weather and insect activity. This means you'll never have to worry about your fence becoming unsightly or damaged due to natural and human-made weather patterns. Colorbond fences are also an option for retaining privacy, as they can't be seen from neighbouring properties or roadways.
The advantages of colorbond steel are evident.
In addition to being an attractive alternative to traditional steel, colorbond fencing is four times stronger than galvanized fencing, with a three times longer lifespan. Colorbond fencing is also significantly more durable than galvanized fencing due to the increased strength of the steel. As the name suggests, 'colorbond' combines rust strength, resistance to weathering and corrosion, and appearance.
The installation process for colorbond fences using BlueScope Steel is simple and straightforward.
The design of colorbond steel is such that it doesn't require expensive, complicated tools for installation. It's comparable to other similar fencing options in terms of cost and durability.
Installing a colorbond fence not only offers lasting durability but will also stand the test of time and remain looking as good as new for years to come!
Discover more about the benefits and advantages of installing a colorbond fence here.
After seeing how superior colorbond fences are compared to other fencing options, contact an authorized Colorbond supplier in your area. Many Colorbond fence suppliers are located throughout Australia - find out more about them here.
Never underestimate the importance of fencing in keeping your property safe, secure, and protected from intruders, whether they're animals or humans!
But not all fences are created equal. The ideal material for a fence is high-quality steel to ensure durability and strength. As Australia's leading manufacturer of colorbond fencing, Colorbond Fences has developed a unique, innovative product that is both strong and stylish.
Installation, repairs, and maintenance of Colorbond Steel are done locally by Colorbond Fences authorized installers. That means you get even more value and can be done at a more affordable price.
The self-priming process results in a faster, cost-effective installation - with no need for expensive machinery or large equipment. Whether your project needs a simple repair or a complete fence installation, Colorbond Fences can help.
A Colorbond fence will save you money long-term because it is more durable than galvanized fences so it won't need repair or replacement as often. This means that even with the one-off installation costs, you'll find that over time, Colorbond fencing costs less than other fencing solutions.
The Colorbond process is environmentally friendly and uses recycled materials, making it more economical in terms of the environment too. Considering all the savings and added benefits of installing a Colorbond fence - both in terms of aesthetics and practicality - it's clear that this is a wise investment for your home or business.
In conclusion, the benefits of installing a colorbond steel fence are clear. It doesn't just look good and last longer than other fencing options, but it's also more robust and more durable, ensuring that it will provide you with peace of mind for years to come.