ZINCALUME® Steel Flat ridge to suit Corrugated Iron (Custom Orb) Roofing sheets. Shaped to suit 20 degrees pitched roof.
Which roofing sheet profile is best suited to this ridge?
This is the best shape to suit a pitched corrugated roof.


Which fasteners do I use for this ridge capping?
We would suggest the: Roofing Tek Screws 12 x 50 Multifix - Timber or Steel fasteners.
How long does delivery take?
Delivery takes approx 3 - 6 working days, depending on location.
Flashing Tolarance: Length: + 200mm, – 0mm

What are the measurements and can I change them to my requirements?
Measurements : 10mm x 140mm x 140mm x 10mm


If you need custom made flashings we're happy to customise any measurements to suit your needs - please download Custom Flashings Order Form and return via email: sales@metalroofingonline.com.au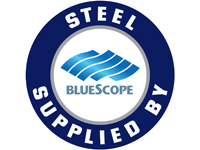 We use only the best 100% Australian steel for 100% peace of mind; made from BlueScope's industry-leading brands such as COLORBOND® and ZINCALUME® steel. And, of course, all our products are extensively performance tested, backed with the strength of the BlueScope warranty and can be relied on with total and absolute confidence.