Purchase: ZINCALUME® Steel (unpainted) Valley Iron.
This flashing product is used at the internal roof intersections to carry water from the roof to the gutter.
Order online or contact our customer care team on 1300 886 944. Price is per lineal metre and includes GST.

This product is installed using rivets and silicone.
Flashing Tolarance: Length: + 200mm, – 0mm

How thick is the steel?
This valley is made from .55 BMT (thicker than standard roofing sheets)
How long does delivery take?
Delivery takes approx 3 - 4 working days depending on location.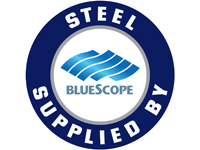 We use only the best 100% Australian steel for 100% peace of mind; made from BlueScope's industry-leading brands such as COLORBOND® and ZINCALUME® steel. And, of course, all our products are extensively performance tested, backed with the strength of the BlueScope warranty and can be relied on with total and absolute confidence.