This box gutter in ZINCALUME® Steel measures: 200mm x 200mm x 200mm.
A box gutter is given its name as it is usually "boxed" into the middle or edge of the roof. The gutter collects the water and disposes of it through the drainpipe. Box guttering is generally concealed as they are hidden by outside walls that are higher than the edge of the roof tiles or sheeting – that is, you can't see them when you look at the home, so they are great if you don't like the look of gutters for whatever reason.
How much fall should a box gutter have?
Box gutters should have a minimum fall of 1 : 200
Flashing Tolarance: Length: + 200mm, – 0mm
Can I change the measurements on this box gutter flashing?
We can manufacture this box gutter to your custom measurements. Download custom flashings sheet and return to us at sales@metalroofingonline.com.au or call 1300 886 944.
How long does delivery take?
Delivery takes approx 4 - 5 working days once the order is placed, depending on location.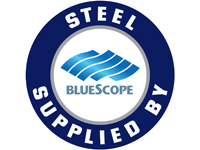 We use only the best 100% Australian steel for 100% peace of mind; made from BlueScope's industry-leading brands such as COLORBOND® and ZINCALUME® steel. And, of course, all our products are extensively performance tested, backed with the strength of the BlueScope warranty and can be relied on with total and absolute confidence.