Purchase: ZINCALUME® Steel (unpainted) Valley Gutter
ZINCALUME® Steel: Valley iron is used at the internal roof intersections to carry water from the roof to the gutter.
It is compatible with most roof profiles including tiles.
Flashing Tolarance: Length: + 200mm, – 0mm
Price is per lineal metre and includes GST
What steel is this valley made from?
This valley is made from ZINCALUME® Steel (unpainted) and the steel thickness is .55bmt.
This product is installed using rivets and silicone.
What are the measurements and can I change them to my requirements?
Measures: 10mm x 240mm x 240mm x 10mm
If you need custom made flashings we're happy to customise any measurements to suit your needs - please download Custom Flashings Order Form and return via email: sales@metalroofingonline.com.au
How long does delivery take?
Delivery takes approx 3 - 4 working days depending on location.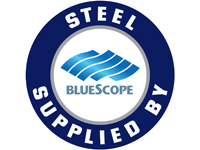 We use only the best 100% Australian steel for 100% peace of mind; made from BlueScope's industry-leading brands such as COLORBOND® and ZINCALUME® steel. And, of course, all our products are extensively performance tested, backed with the strength of the BlueScope warranty and can be relied on with total and absolute confidence.