Shop Online: ZINCALUME® Steel Valley: suits both corrugated iron roofs or tiled roofs.
Used at the internal roof intersections to carry water from the roof to the gutter. Designed to suit pitched Corrugated Iron (Custom Orb) roofing sheet profile or tiled roof. This product is installed using rivets and silicone.
Made from G300 Feed and .42BMT thick steel

How long does delivery take?
Delivery takes approx 3 - 4 working days depending on location.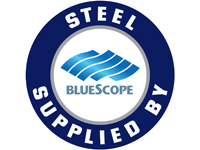 We use only the best 100% Australian steel for 100% peace of mind; made from BlueScope's industry-leading brands such as COLORBOND® and ZINCALUME® steel. And, of course, all our products are extensively performance tested, backed with the strength of the BlueScope warranty and can be relied on with total and absolute confidence.