Standing seam cladding is a great decision to make for a tried, true and everlasting covering.

It is suitable for both wall facade cladding and roofing, making it a suitable choice for residential and commercial projects.


The standing seam cladding involves two interlocking panel seams and lapped. Each standing seam panel is fastened against the plywood and wrap shield using concealed clips.
The minimum plywood thickness: is 15mm for cladding & 19mm for roofing.
Minimum pitch of 3 degrees.
Australia created
COLORBOND® steel is the ideal finish for your family home, having been designed and tested for our unique environment and is available in various colours that complement it beautifully.
Products We Offer
The durability and ease of maintenance of COLORBOND® steel contribute significantly to its timeless style and appearance. That is why it is used in many applications in both old and new homes across Australia.
Colours With 22 core colours and six additional colours available in a premium Matt finish, you can enjoy the process of finding the perfect colour scheme for your dream home.
Built to last.
COLORBOND® steel is tested inside and outside Australia in wind, rain, hail, and heat. COLORBOND® steel, like the Australian landscape, is constantly evolving. Since 1966, we've been changing colours and embracing new technology.

The Matt finish of COLORBOND® matt steel provides a subtle, high-end aesthetic.
Designed to diffuse reflected light and create a soft, tactile appearance.
STANDING SEAM - COLORBOND Meets a variety of architectural needs.
COLORBOND® Matt Standing Seam will give you a luxurious look; its stylish and distinguishing characteristics mean that it is more than just a wall or roofing product; its fully concealed fixings combined with the system's functionality opens up endless possibilities for both the material and the system's use.
COLORBOND STANDING SEAM
Long-lasting and consistent
COLORBOND® Matt is the ideal bridging material, providing a high-quality finish at a low cost. COLORBOND® has been manufactured in Australia since 1966 and has grown to be the market leader in roofing and wall façades. COLORBOND® is no exception, having been the first steel-based matt product to impact the Australian market. With a warranty of up to 36 years, COLORBOND® Matt Standing Seam is a product you can rely on while also looking good.
COLORBOND STANDING SEAM
Long-lasting protection while remaining lightweight - COLORBOND® steel in a Matt finish is available in a wide range of popular roofing and cladding profiles, including corrugated, architectural standing seam styles
COLORBOND® incorporates unique Thermatech solar reflective technology to withstand the hot Australian sun. This, combined with enhanced anti-corrosion resistance, makes COLORBOND® Matt an unrivalled finish for your home, ideal for Designer Panel Systems. Standing Seam will provide you with an aesthetic that will not only last a lifetime but is also nearly 100% recyclable.
Finishing with COLORBOND® steel, Matt creates a sophisticated and personal design statement. COLORBOND® steel Matt has been tested for over a decade and is designed to withstand our harsh Australian environment. As a result, the product retains its Matt finish and looks even better for longer.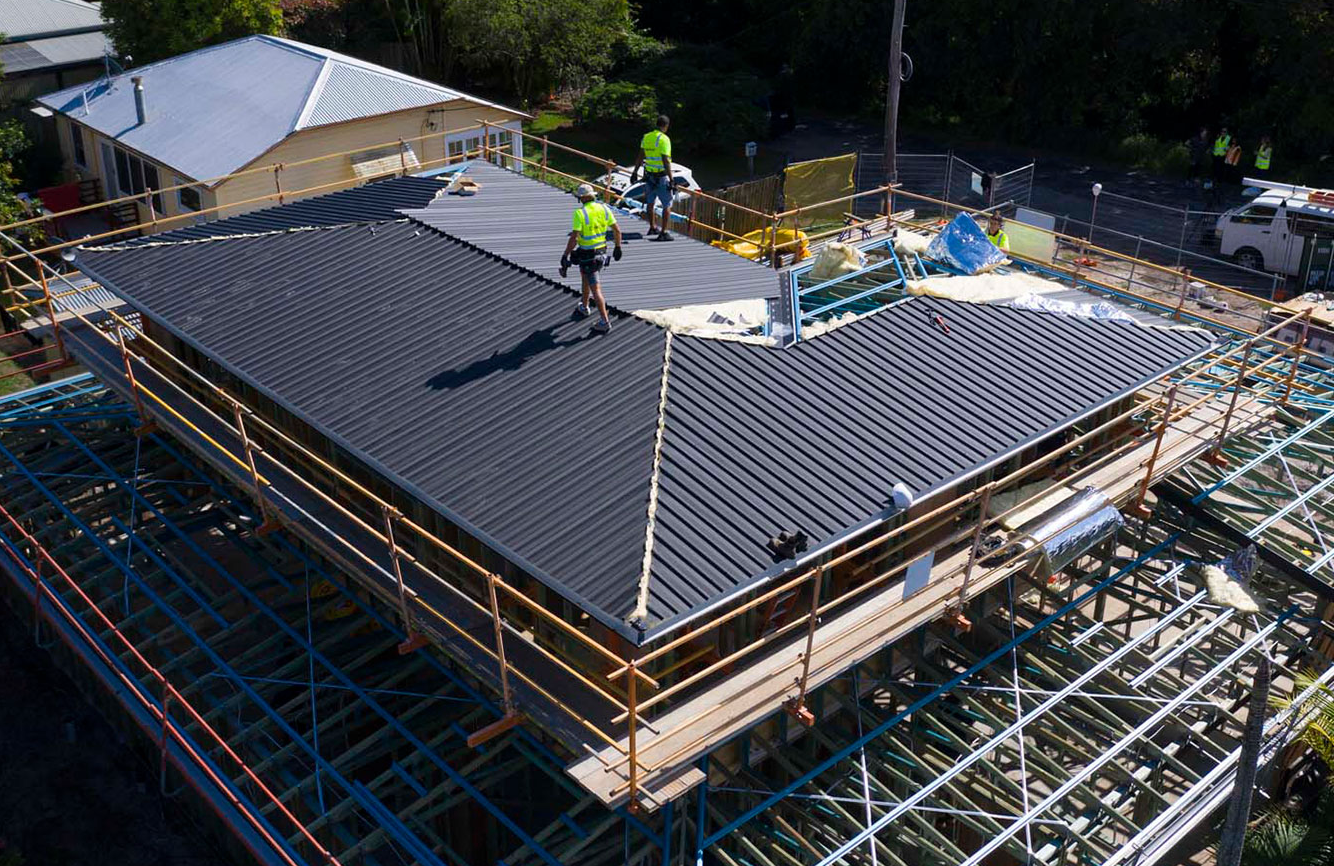 Colorbond Brings the Matt Look to Your Home
When renovating or building a new home, it can be difficult to make decisions that will maintain a consistent look and feel for your home and concept. Each product you choose has the potential to influence the next, so having a wide range of options is essential. While your home's roof serves an obvious purpose, its aesthetic and appearance are frequently overlooked, except for its colour. The materials used in homes can be matt, natural, and textural finishes, and COLORBOND®Matt steel's roofing contributed to a softer and more subtle look that was consistent with the overall concept of a home.
Think about your colour.
First, the roof colour should complement your home's existing colour scheme. Whether your roof is an extension of your cladding or paint or will contrast with it, make sure it is consistent with your overall design. If you have a Heritage home, you must work within a specific colour scheme when selecting. You'll have more options for new homes and renovations, and the matt finish of the roofing complements the matt framed windows and timber cladding used throughout homes. Something as simple as a matt finish can significantly impact the overall appearance of your home.