Lysaght Enseam installation manual
Material Specification: COLORBOND® steel is prepainted steel for exterior roofing and walling. It is the most widely used. The painting complies with AS/NZS 2728:2013, and the steel base is an aluminium/zinc alloy-coated steel complying with AS 1397:2011. The minimum yield strength for CUSTOM ORB is G550 (550 MPa). The minimum coating mass is AM100 (100 g/m²).
All installation and connection details are to be made in accordance with the relevant standard connection code details. We recommend you get professional advice to ensure your particular needs are adequately met.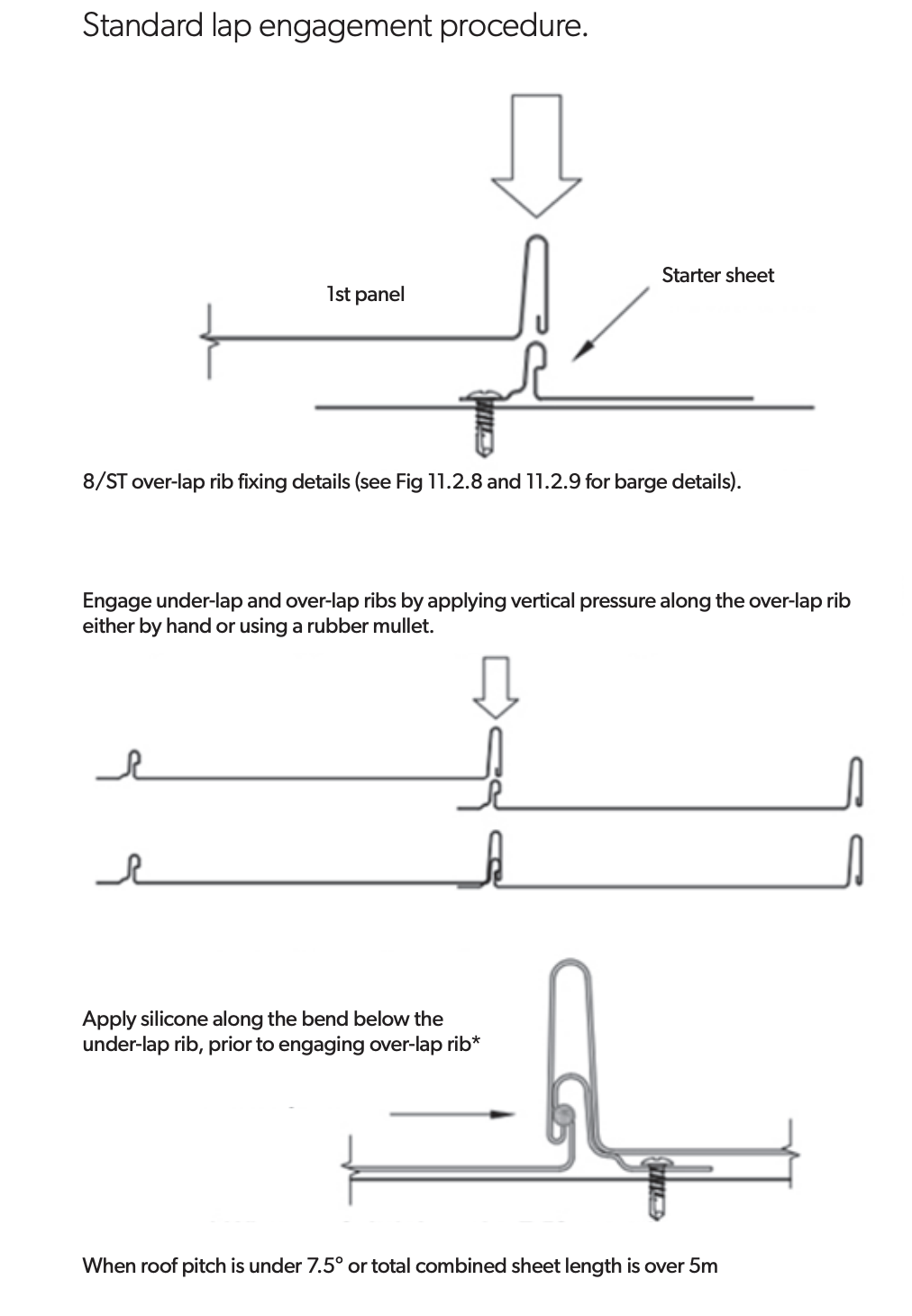 Introduction: When it comes to home improvement, few upgrades can match the transformative power of a new metal roof. Not only does it enhance the overall aesthetic appeal of your home, but it also provides durability, protection, and energy efficiency. In Australia, Colorbond metal roofing has become the go-to choice for homeowners seeking a combination of style, reliability, and ease of installation. In this article, we'll explore the benefits of Colorbond roofing and how you can order it online from Metal Roofing Online, Australia's leading supplier.
Discover the Cost-Effective Solution of Colorbond Cladding
Colorbond cladding offers an attractive, cost-effective solution to enhance your home's exterior. Its versatility allows you to choose from various colours, ensuring a perfect match for any architectural style. At Metal Roofing Online, we understand the importance of quality and affordability. That's why we offer competitive prices on our Colorbond cladding range, allowing you to achieve a stunning home exterior without breaking the bank.
Southerly Colorbond: The Perfect Blend of Style and Durability
For Australian homeowners who value style and durability, Southerly Colorbond is the ideal choice. Designed to withstand Australia's harsh climate, Southerly Colorbond ensures your roof remains strong and vibrant for years. Its innovative technology reflects the sun's heat, keeping your home cool during the scorching summer months. Metal Roofing Online proudly stocks a wide selection of Southerly Colorbond products, ensuring you find the perfect fit for your home.
Window Flashing Colorbond: Protect Your Home from the Elements
Proper window flashing is crucial for maintaining a weatherproof home. With Colorbond window flashing, you can ensure that your windows are protected from rain, wind, and other environmental factors. Metal Roofing Online offers a comprehensive range of Colorbond window flashing options, giving you peace of mind and confidence in your home's defence against the elements.
Order Your Colorbond Metal Roofing Online Today!
At Metal Roofing Online, we understand the convenience of online shopping, especially for home improvement projects. Our user-friendly website lets you browse our extensive range of Colorbond products, including cladding, Southerly Colorbond, and window flashing. With just a few clicks, you can compare prices, select your preferred colour and dimensions, and deliver your order directly to your doorstep anywhere in Australia.
Take advantage of the opportunity to enhance your home with the beauty and durability of Colorbond metal roofing. Explore our exceptional range of Colorbond products today!
Conclusion:

Investing in a metal roof is wise for any homeowner. With Colorbond roofing, you add aesthetic value and enjoy the benefits of durability, energy efficiency, and protection against the elements. You can access a wide range of Colorbond products at competitive prices by choosing Metal Roofing Online as your trusted supplier. Order your Colorbond metal roofing online today and take the first step toward transforming your home.
Colorbond Enseam Nail Strip - Premium Lysaght Standing Seam Cladding
Description: Discover the perfect solution for your roofing needs with our Colorbond Enseam Nail Strip, featuring premium Lysaght standing seam cladding. Metal Roofing Online proudly presents this high-quality product, designed to provide exceptional durability and aesthetic appeal to your roofing project.
Key Features:
Lysaght Standing Seam Cladding: Our Colorbond Enseam Nail Strip utilizes the renowned Lysaght standing seam cladding system. With its superior craftsmanship and innovative design, this cladding ensures long-lasting performance and enhances the overall strength of your roof.

Premium Colorbond Finish: The nail strip is coated with a weather-resistant Colorbond finish, offering a wide range of vibrant and enduring colour options. This adds a touch of elegance to your roof and provides excellent protection against the harsh Australian climate.

Easy Installation: The Colorbond Enseam Nail Strip is designed for convenient installation, making it suitable for professional roofers and DIY enthusiasts. Its innovative interlocking system enables fast and secure fixing, ensuring a hassle-free installation process.

Exceptional Weather Resistance: With its superior weatherproofing capabilities, our nail strip helps protect your roof against heavy rain, winds, and extreme temperatures. It effectively prevents water leakage and provides additional structural integrity.

Longevity and Low Maintenance: Built to last, the Colorbond Enseam Nail Strip requires minimal maintenance over its lifespan. Its robust construction and corrosion-resistant properties ensure your roof stays in top condition for years.
Applications: The Colorbond Enseam Nail Strip is ideal for many roofing projects, including residential, commercial, and industrial applications. Its sleek and modern appearance makes it a perfect choice for contemporary architectural designs, adding a touch of sophistication to any property.
Upgrade your roofing system today with the finest Lysaght standing seam cladding. Order your Colorbond Enseam Nail Strip from Metal Roofing Online and enjoy exceptional durability, aesthetics, and performance. Please browse our website now and experience the highest quality products at competitive prices.